---
From humble beginnings..........
As you may have guessed this part of my page is dedicated totaly to my 1969 Plymouth Road Runner. The RR is one of my current automotive endevor, and Im proud to say I am doing ALL the work myself! Unfortunatley for the RR, Ive had so much change in my life, that it has been put to the side. But, Im hoping all of that is going to change and I will get started working on here again this spring (2005)
I purchased this fine piece of MoPar Muscle in October of 1994 when I was a Senior in High School, for the small sum of $3000. The story goes: A good friend of mine is an auctioneer. He was doing a small estate auction in a city north of where we live. During the auction a guy came over from a house across the street and asked if they could auction off the car. Of course, they agreed, I mean, money is money! But, due to the car not being advertised for the auction prior to, no one there was very interested in the car, so it was a no sale. This is where I come in. My friend came and told me about the car, and I immediatley went to look at it. Found the garage, with the car in it, but unfortunatley no owner. The owner, in fact, did not even live at the house where the car was being stored, he only rented the garage. So, at that time all I had was a car behind some small garage door windows, a name, no phone number and no address. Well, to make a long story short I did track the guy down, and buy the car, after about 3 months of trying to find him.
I drove the car a bit before winter, but parked it soon after due to a very bad steering box. Later in the spring of 1995, I found a good steering box for $25 bucks, slapped that in, and all was well. While I was there, I rebuilt the front end, put a sway bar back on it (lord knows where the original went, but the end links were the only thing left!). That made all the difference in the world! I later had to add new front tires after blowing one of the bias-plys that was there and then drove it my last semester of high school. After I graduated from high school I decided to repaint the car before I started at Purdue University in the fall of 1995. Well, after starting to strip the car that summer, it turned into a MUCH bigger project as you will soon see!! Lets just say that the guy I purchased it off of works in body filler like some artists work in oils or clays. Yes, he was the master!! (if only I had brought a magnet with me when I bought the car, ahhh, live and learn!)
Becuase I only was able to work on the car during the summer when I was in college, most of the time, Im dividing the first few years into "Summers of". Simply follow the links below.
2000 -> 2004 (UPDATE!)
Well, the Road Runner isnt yet completed, unfortunatley.
Clay's Complete Guide to the Plymouth Road Runner is now up!! Not done, but up! Click here.

---
The Current State of the Union............
The Runner in it's current state....
As of right now the Road Runner is sitting in my garage pretty much as it looks in this picture above. Front end is stripped, interior mostly gutted, but there is hope! The car is at a turning point (has been for 5 years), and is mostly ready for assembly. The rear quarters need to be finish welded in place, the engine compartment needs to be painted, and the biggest project will be readying the interior comparment for reassembly. One day, I hope the car will look something like this when Im finished: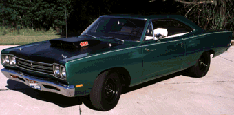 ATTENTION: I am making an attempt to make a "History of the RR" type page, and I am looking for pictures and stats on any and all RRs, from 68-80, so any info you have (especially on the mid 70s and up models!!) would be greatly appreciated!!!
More body shots...
Front Right
Front
Rear
Right side
Engine Shots...
---
Specs
VIN: RM21H9GXXXXXX
Fender Tag:
A87 M21 R11 END
F5 F5 H2G F8 526 322465
E63 D32 RM21 H9G XXXXXX
Decoded:
decor group/drip moldings/AM radio/end of codes
Limelight metallic main body and roof paint/high price class interior-vinyl bench-green/ivy green metallic interior paint/5-26-69 scheduled build/order number
383-4bbl/727 auto/medium price class/St. Louis assembly plant/sequence number
Color: Soon to be Sub-lime green, same as this page....
Engine: 440 6bbl, not an original, that's the way I bought it.
Transmission: 727-B auto.
Rear End: 8 3/4 w/ 3.55 gears.
---
Parts I need....
A very special thanks goes out to John Fleming! A few years back I put an ad up here for reverse lights for my RR, John responded and donated to me a great set of lights, at NO charge! Again, a big thanks to John for helping me out!!
MANY misc. parts, mail me what ya got, you never know!
Promotional Items from Dealer, anything, but in particular:
In 1969 when you bought a Road Runner, some dealers gave away promotional items with the Road Runners. What I am after is the promo wheel covers that were used on the front wheels. It was a disk that mounted to bare steel wheels and had a picture of the cartoon Road Runner on it. When the wheel turned, this disk stayed stationary. Pretty cool, hunh?
A good front windshield, with no "foggy" edges!
Air grabber hood setup.
About $10,000 to "finish" up my bird
Enough for now....
---
Email Clay...


Go back to Clay's MoPar page.

Updated: December 05, 2004