Todd Lee
Hilliard Ohio

89 Daytona CS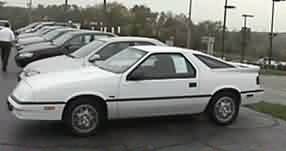 89 CS
VIN:1B3XG24J2KG147313
This car is all stock. No Mods.
Picture Note: This is the ad pic from the dealership where I bought it.
I had a 90 V6 Daytona I bought new in 1990, but I had to trade it on a mini
van in 1995. I absolutely loved the Daytona and found myself missing it. I
happened to see an '89 Daytona advertised in one of our local car sale rags,
and was curious about the car. I did not think this was any more than a base
model until I saw the CS badges and turbo stickers on the hood "hump". The
test drive was a rush!!! This 1 owner (lady driven) 98000 mile beauty was
had for 2200 bucks out the door. Amazingly the repair records and the phone
number of the previous owner were in the glove box. After driving it for 3
months I see why. I plan to keep it stock, but repair a few of the "age"
spots coming out.